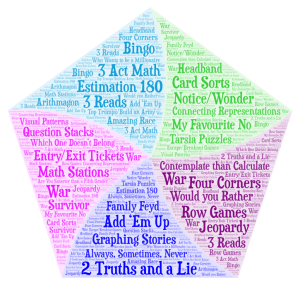 I am thankful for the many people in the #MTBoS community who readily share ideas and documents, and some days I am overwhelmed by the abundance of resources through which to sift. Like others, I am hopeful that a #teachscience community will flourish, as well.
In reading the tweets and blogs of others, I have been thinking a lot about ways to better engage students. I have begun to compile a list of structures, methods, and routines to use in the classroom in order to spark curiousity, inquiry, and eager attitudes from my math and science students. Below is what I have so far:
2 Truths and a Lie – Read about how to use them at Mr. Orr is a Geek.com or at Math=Love
Always, Sometimes, Never – Read about how to use it here and you can find many examples online
Row Games – Described here
Card Sorts – Instructions can be found on The Teacher's Toolkit
Question Stacks – Again, go to Math=Love for wonderful samples
Connecting Representations – Visit Fostering Math Practices and New Visions for Public Schools
Contemplate then Calculate – Again, visit Fostering Math Practices and New Visions for for Public Schools
Estimation 180 – Estimation challenges from Andrew Stadel
Entry/Exit Tickets – Used at the beginning or end of a class, read about them here
Graphing Stories – Go to the website by the same name or read Dan Myer's ideas on dy/dan
Four Corners – Read about this strategy here or here
My Favourite No – Watch the video on The Teaching Channel
Notice/Wonder – Read about it here and then search Google for other samples
3 Act Math – Definitely read about it on Dan Meyer's blog
Which One Doesn't Belong – Visit the fabulous website to see how these puzzles work
Would you Rather – Visit the website by the same name for samples
Who Am I? – Try them out here…and thanks to Matt Coaty for reminding me that this should be on the list
Add Them Up – Read about it from Sara Van Der Werf
Tarsia Puzzles – Download the free software here (only on PC) and then visit Mr. Barton Maths site for samples
Build an Army/Top Trumps – Again visit Mr. Barton Maths to see what he does for Build an Army and then read about how to incorporate the Top Trumps card game into the classroom here
War – Read about how to use the card game in math class here and here
Game Shows – Find templates for Are You Smarter than a Fifth Grader, Jeopardy, Bingo, Family Feud, and Who Wants to Be a Millionaire here
Escape/Breakout – Explore with digital games at BreakoutEDU or here and learn how to create your own game here and here
*The following list items are thanks to @druinok and the responses to her call for structure ideas:
3 Reads – Read about this on Fostering Math Practices (suggestion from Kim Charlton @Logical Poetry)
O.G. Mistake  – A new spin to use instead of question stacks, read about it on Julia Anker's blog
Open Middle – I actually originally had this on the list, but must have accidentally deleted it, visit the Open Middle website to read about it and explore an abundance of problems (suggestion from @Dsrussosusan)
Give One, Get One – Suggested by @druinok, I think I could make use of this in my science lessons, read about it here
Find Someone Who – Also suggested by @druinok, read about it here
Math Hospital – Also suggested by @druinok, a type of find and fix the error strategy, read about it here
Let me know what else should be on this list.