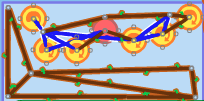 Today I would like to share two online games that I love.
The first game is called Fantastic Contraption. It is an online physics building game with 47 levels. The aim is to build a contraption that will move a pink wheel into a goal area. In order to achieve your goal you can use various wheels, sticks, and water rods to build a contraption that will maneuver around the obstacles given.
The second game is called Launchball. This is another physics game with the aim of getting a ball to the goal zone. However, in this game you use fans, heat, water, and electromagnetic forces to move the ball around the obstacles.
Have fun playing!