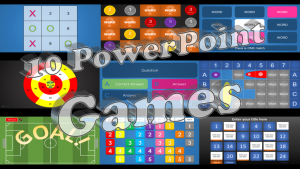 My challenge continues … it is always hard to find time to write during the school year. Today I am sitting in a ski lodge while our students are on the slopes, and so I have found myself with a few extra minutes.
About a month ago I came across a PowerPoint resource that had a spinner wheel on one of the pages. I had never seen this before and I wanted to know how it was created. In my search for that information I came across the tekhnologic website, developed by a teacher in Japan. The downloads page has a series of game and activity templates for PowerPoint, Excel, and Word. You can also find some of these on the collections page, where PowerPoint game templates and ideas are highlighted.
And if you are interested in the spinner wheel PowerPoint template, you can find it here.